Dynamic Wellbeing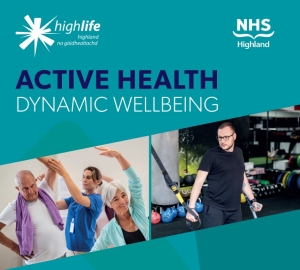 Do you or someone you know have a long term health condition?
Did you know High Life Highland can help people with long term health conditions to safely get active and stay active?
Small changes to your activity levels can make a huge difference to you mental and physical health.
We have a range of classes and activities at various intensity levels – there really is something for everyone.
There are different levels of classes – and our specialist team can help you find one that suits you.
Level 1 is intended to be suitable for participants who:
Face difficulties or need assistance with activities of daily living;
And/or use a walking aid;
And/or have concerns about their balance and ability to stand.
Level 2 is intended to be suitable for participants who:
Have minimal or no difficulties with activities of daily living;
Are independently mobile;
Have good balance but may need additional support (a chair or wall) when completing specific balance exercises.
If you are unsure whether the Active Health – Dynamic Wellbeing classes are suitable for you, or at which level, please speak to a member of our team or you can email:  active.health@highlifehighland.com .
You are welcome to come along to observe an Active Health – Dynamic Wellbeing class before taking part just get in touch with us to arrange a suitable date and time 😊.
All classes are FREE on highlife – check out our membership options here
For more information please email:  active.health@highlifehighland.com
Class times are listed below (more classes for more locations will be added in the coming weeks):
Level 1
Badenoch Leisure Centre (Kingussie): Mondays 12 – 1pm
Inverness Leisure Centre: Mondays 2 – 3pm
Leven Centre (Kinlochleven):  Tuesdays 2 – 3pm
Level 2
Inverness Leisure Centre:  Thursdays 5 – 6pm
Leven Centre (Kinlochleven):  Thursdays 1 – 2pm

Be Active with High Life Highland
Being active isn't just good for our physical health; it's also proven to have a positive effect on our mental health and wellbeing.
Whether you're exercising indoors in your local gym or outside it can make you feel great!  You can do anything to be active from walking, running, cycling, play a game, gardening, dancing the list is endless.
It's really important to discover a physical activity you enjoy and one that suits your level of mobility and fitness there are lots of options to help with this in High Life Highland.
Join Highlife highlife membership offers you and your family access to a range of health and fitness opportunities in leisure centres throughout the Highlands. In addition to swimming pools and fitness suites, your membership gets you access to squash courts, swimming lessons and a huge range of group exercise classes for people of all abilities and interests and a growing range of online activities
Leisure Centres  In the current situation with Covid-19 we need to ensure that we can manage the number and flow of customers in the safest way possible and in accordance with Scottish Government guidelines. This means that you will have to book any activity in advance either through our website.
Move More  People affected by cancer can access our programme which provides support into physical activity following a cancer diagnosis.  We are delighted to work in partnership with Macmillan Cancer Support and our wonderful team are ready to support you in a way that suits you!
Cardiac Rehab  In partnership with our colleagues at NHS Highland we are able to offer support for people who have had a cardiac event to get active.