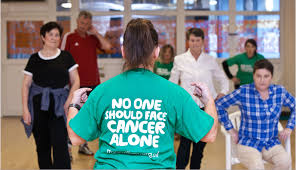 Move More Highland is a partnership between Macmillan Cancer Support and High Life Highland that aims to help people affected by cancer to get moving.
Taking part in physical activity before, during and after cancer treatment can play a huge part in enabling you to take back control. A growing body of evidence also shows that being active can play a vital role in helping to prevent a recurrence of cancer, slow disease progression as well as reducing the side effects and consequences of cancer treatment, such as fatigue and depression. Find out more at Macmillan.
Move More Highland classes are open to everyone, whether you're going through treatment or have long finished.  You can even bring along a friend, relative or carer.
To register your interest in joining the programme, please complete the Move More self-referral form.
Current activities:
In light of the announcement on Wednesday 18th March, of school closures from Friday 20th March, High Life Highland Leisure and Community Facilities, Libraries and Museums will also close from the end of the working day on Friday 20th March, the likelihood is that they will be closed for an indefinite period, pending government guidelines.
Our Macmillan team are working hard to continue to offer services to support anyone affected by cancer to maintain physical activity as much as is possible and safe in these unprecedented times.
Links to some useful resources are below and if you would like further information – including the option, if you are directly affected by cancer, to have an individually tailored home exercise programme – please get in touch with our Move More team by phone:   01463 667500 #8595    or by email:  movemore@highlifehighland.com.
Macmillan:  Eating Well and Staying Active
Macmillan Move More cardio workout
Macmillan Move More Highland Facebook
Benefits of walking from Paths for All
Standard current activities (sorry these are currently not available):
Exercise class (POSTPONED): These classes are led by specially trained cancer rehabilitation and exercise instructors. They use a variety of simple cardiovascular and strength exercises which are adaptable to provide an individualised physical activity programme. The instructors are always on hand to offer you guidance and support. Whether you have never been active before, or are looking to get back into the swing of things – our circuit classes are an ideal social way of doing this.
Venue: Inverness Leisure |  Day:  Monday | Time: 12:30 -13:30
Gentle Movement (POSTPONED): These classes are led by fully trained Gentle Movement volunteers. Gentle Movement is a specially adapted form of activity, designed by Macmillan Cancer Support, to help people affected by cancer to 'Move More and feel better'.
The classes are based on adapted Tai Chi, seated exercises and flexibility activities, as a more mild form of activity for participants who may not have been active before, or are looking for a bridge into a more active lifestyle.
Venue: Dingwall Leisure Centre |  Day:  Tuesday | Time: 11:00 – 12:00
Venue: Lochaber Leisure Centre |  Day:  Tuesday | Time: 18:00 – 19:00
Venue: Hilton Community Centre, Inverness |  Day:  Thursday | Time: 11:30 – 12:30
Walking Group (POSTPONED): In partnership with Partnerships for Wellbeing and Paths for All, Macmillan Friendly walks in the Highlands are short and sociable. They are volunteer-led and participants can walk as slowly or fast as they feel comfortable with. Walks are open to those with a diagnosis of cancer and also their friends and family.
Location: Ballachulish |  Day:  Friday | Time: 10:00
Location: Caol |  Day:  Monday | Time: 13:30
Location: Fortrose |  Day:  Tuesday | Time: 14:00
Location: Spean Bridge |  Day:  Monday | Time: 10:00
Location: Tomatin |  Day:  Wednesday | Time: 14:00 (13:30 Nov – Mar)
Location: Tongue |  Day:  Wednesday | Time: 13:00
Location: Wick |  Day:  Tuesday | Time: 14:00
Additional activity options:
Pedometer | Move More fitness DVD | Free High Life Highland 7 session pass | High Life Highland membership
Volunteering (POSTPONED)
Move More Highland would not be able to provide the service without the help of volunteers.
We are currently looking for volunteers to deliver Gentle Movement exercise across the Highland area. Full training will be given, including cancer awareness and role specific training.
If you would like more information on joining the programme as a participant or a volunteer, please don't hesitate to contact the Move More Highland team:
Phone: 01463 667500 ext. #8595                Email: movemore@highlifehighland.com