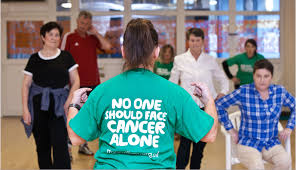 Due to the coronavirus our leisure facilities are currently closed and we have worked hard to ensure we can still offer people affected by cancer the best possible remote service. 
What is the Macmillan Move More Highland programme?
High Life Highland have teamed up with Macmillan Cancer Support to help people affected by cancer to get moving.
Taking part in physical activity before, during and after cancer treatment can play a huge part in enabling you to take back control. A growing body of evidence also shows that being active can play a vital role in helping to prevent a recurrence of cancer, slow disease progression as well as reducing the side effects and consequences of cancer treatment, such as fatigue and depression. Find out more at Macmillan.
The programme provides 12 sessions of free activity with support available over a 12-month period.
Who can join Move More Highland? 
Anyone who has had a cancer diagnosis. You can also take along a family member or friend. Whether you are currently going through treatment, living with advanced cancer, recently diagnosed, or currently in remission; whether you are a person who loves the gym or have never exercised before. Register your interest and we'll help you get moving in 2020.
Current activities:
Our Move More team remain committed to providing opportunities and support for people affected by cancer to become or remain physically active, as much as is possible and safe in these unprecedented times.
We are in regular contact with all people registered in the programme, offering support and links to information to help keep well during this time.
We are able to provide an individually tailored and personalised home exercise programme and we also have a range of online classes available.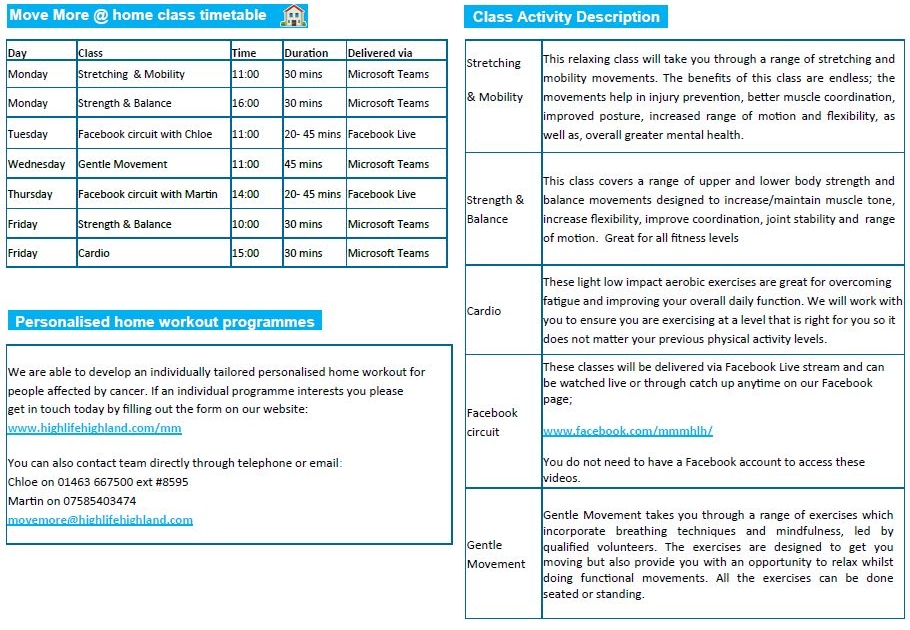 How do I register an interest in joining? 
All you need to do is complete the Move More self-referral form (click here) to register your interest. One of our Cancer Exercise Specialists will then contact you to have a chat, ask a few questions and listen to what you have to say before discussing ways to make physical activity part of your life.
If you would like more information, contact the Move More Highland team:
Chloe Young              01463 667500 #8595
Martin Godwin            07585 403474
By email: movemore@highlifehighland.com
Follow our Macmillan Move More Highland Facebook page
Additional resources:
Macmillan Cancer Support have developed the following home workout video which can be performed sitting or standing: