Parkinson's Exercise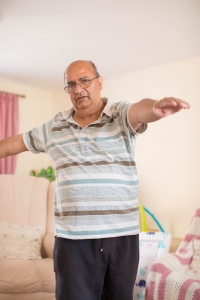 High Life Highland remains committed to providing support for participants of the Parkinson's Exercise programme across the Highlands.
Since the start of the pandemic support from High Life Highland has included a personal contact by phone and email from HLH specialist exercise instructors to help participants to keep well, at this time, by providing specifically tailored information such as how to exercise safely at home, as well as how to access resources on topics like how to eat well.
More recently exercise interventions have been planned in consultation with  Parkinson's UK Scotland and NHS Highland, resulting in people affected by Parkinson's having a choice of ways to keep active and connected to High Life Highland and to others with Parkinson's.
It is now well understood that if people can keep active it can significantly improve functional capacity, fitness and quality of life as well as reducing the risk of ill health, disease recurrence, deterioration of condition, risk of falling and even acute hospital admissions whilst also helping to manage symptoms.
Details about how to book into Parkinson's Exercise classes run by High Life Highland are below.
A warm welcome awaits you! 🙂
Face to Face Classes
To book please contact the leisure centre listed below or to book online click here
Averon Leisure Centre – Tuesday 1400-1500
Inverness Leisure – Monday 1330 – 1430 & Wednesday 1400-1500
Lochaber Leisure Centre – Thursday 1230-1330
Thurso Leisure Centre – Thursday 1000-1100 & 1115-1215
Wick Assembly Rooms – Monday 1330-1430
Online Classes
To book please click here
Tuesday 1800-1845
Wednesday 1100-1230
Thursday 1000-1130
Friday 1100-1230
Classes are 60 minutes with social time included at the end of the session
Participants of the online classes will require a tablet, smart phone or computer with a camera to take part.
Additional Support and Resources
Parkinson's UK have created a YouTube channel which hosts a number of videos that can help with keeping active along with a range of other topics which you may find helpful.  Click here to go the Parkinson's UK YouTube channel.
Parkinson's UK Scotland also have an excellent website full of resources you may find helpful.  Click here to go to the Parkinson's UK website.